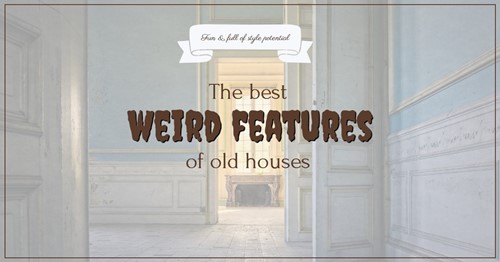 While trends and necessities change, some so-called weird features of old houses can still delight the modern homeowner. What some might consider useless and old-fashioned might be the perfect opportunity for timeless style and vintage charm. But which of these unusual features are the most-loved?
From strange to whimsical, here are some of the best outdated and odd features you can find in an old house:
Laundry chutes
While modern technology has vastly improved many aspects of laundry day, laundry chutes are a feature only found in very old buildings. Laundry chutes allow the easy gathering of dirty laundry throughout all floors of a multi-story house by routing it through a tube to the basement or laundry room.
While very uncommon in modern construction, many homeowners would likely argue for the usefulness of this particular peculiar feature.
Sleeping porches
Sleeping porches became popular in the 20th century after health professionals began to advocate for the benefits of fresh air while sleeping. Homes in the South and warmer regions of the West frequently had large porches with bedroom setups for sleeping outdoors on warm nights.
Boot scrapers
Boot scrapers are useful for scraping the mud and dirt from your boots before entering your home. In the times before paved roads and sidewalks, dirty shoes were a much more serious problem, necessitating a more specialized tool than a simple welcome mat.
Boot scrapers were typically made from cast iron bars attached to the wall near the ground and sometimes had brushes attached for additional cleaning power.
Dumbwaiters
Imagine having direct access to the kitchen and dining room from your bedroom - this is one convenient aspect of the dumbwaiter. These days you're only likely to find dumbwaiters in old hotel buildings, but they were a must-have feature of multi-story homes in the 19th century.
These special moving platforms were made to carry heavy loads of laundry and food through multiple floors.
Ceiling medallions
A purely decorative feature, ceiling medallions were popular in upper-class homes during the 19th century. These round decorative pieces add architectural beauty and detail to a room with intricate carvings and inlays.
Depending on the artisan and style of the time, ceiling medallions have been crafted with everything from paper mâché to iron and marble. You can still find them in older houses where they've been maintained for artistic appeal and historical elegance.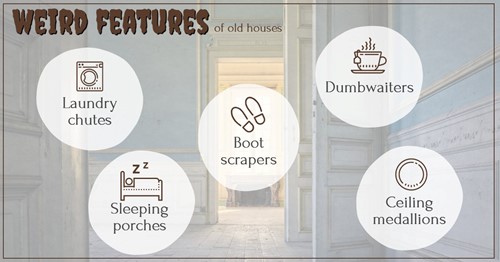 There are plenty of house features designers and architects are glad to be rid of, but some of them still have their charms and uses in the modern era.